Prestonwood has one of the top youth polo programs in the country and is 2016 & 2019 National Champions, 2015 National Runners-up and 5-time Central USA Champions; we've also sent 3 players to the USPA National Youth Tournament Series Championship (NYTS). Prestonwood is also home the TCU and UNT Intercollegiate Polo Teams. We introduce kids 8-18 to the ​sport of polo with the goal of joining our interscholastic and inter-collegiate teams to compete in USPA tournaments throughout Texas and the USA and we also offer a polo summer camp. Parents can play too! There's no better way to enjoy spending time with you child than on horseback! Contact us today to sign-up: coach@prestonwoodpolo.com
High School and Collegiate Polo has a long history and tradition in the USA dating back to 1922 when Princeton defeated Yale for the 1st College Championship. Thanks in part to Coach Vaughn Miller, in 2015 the USPA made a historical decision to offer college scholarships to top High School polo players who qualify. Many top colleges offer Intercollegiate Polo. Contact us to learn more. At Prestonwood we teach kids to ride and play polo simultaneously so they learn a quicker pace and have fun. Youth players must complete our 10 lesson package in order to join our program. Youth Program Members are eligible to participate in practices and games and can try-out for the Prestonwood Varsity & JV teams, Divisions include:
Varsity Boys: High School
JV Boys: High School & Middle School
Girls: High School & Middle School
College: Men & Women
Team USPA: College/High School Graduates
Prestonwood Youth practice schedule is typically: Saturday & Sunday Mornings and Wednesday & Friday Evenings.
See our Polo Lessons page for price options. No refunds.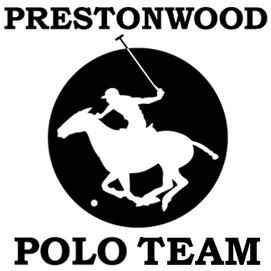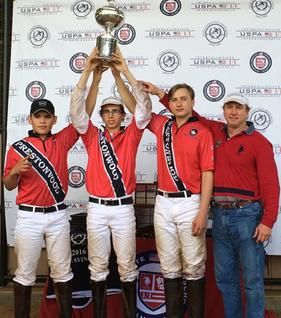 2016 National Champions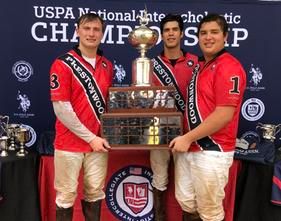 2019 National Champions